The third week was definitely a lot quieter than the others, so the post will be a lot shorter. Keep your eyes peeled for some more exciting and delicious content coming next week!
Food
Starting with Tuesday, I ate a delicious crêpe with chocolate inside and some vanilla ice cream on top. Definitely worth it!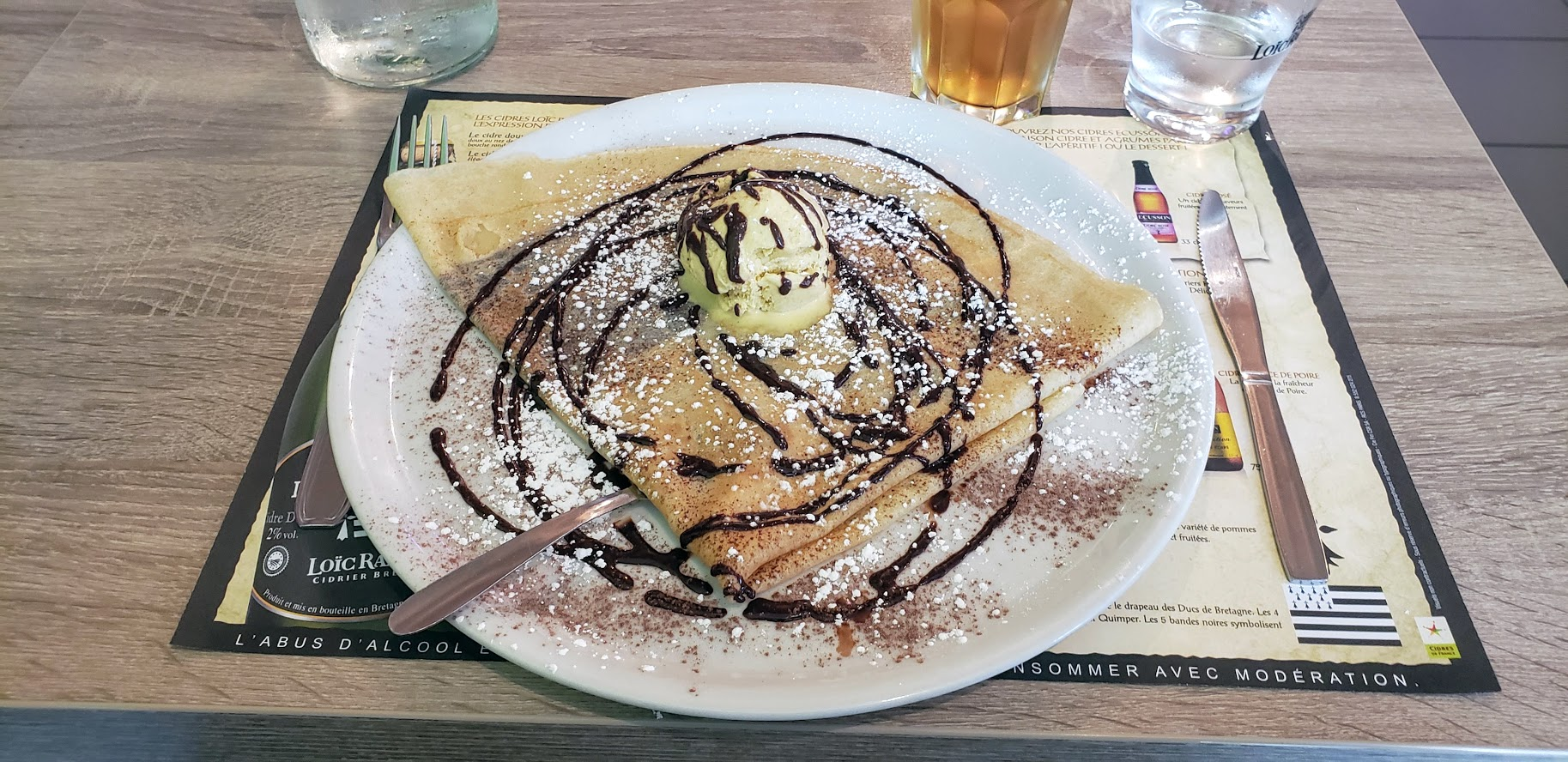 It was accompanied by a classy glass of jus de pomme (apple juice). The crêpe was definitely one of the best I've ever had (the chocolate and banana crêpe I ate with my host family during our trip to the Alps is its biggest competitor), and I plan to eat more like it in the future.
Much later in the day, at around 10 o'clock, I got this monstrosity for dinner: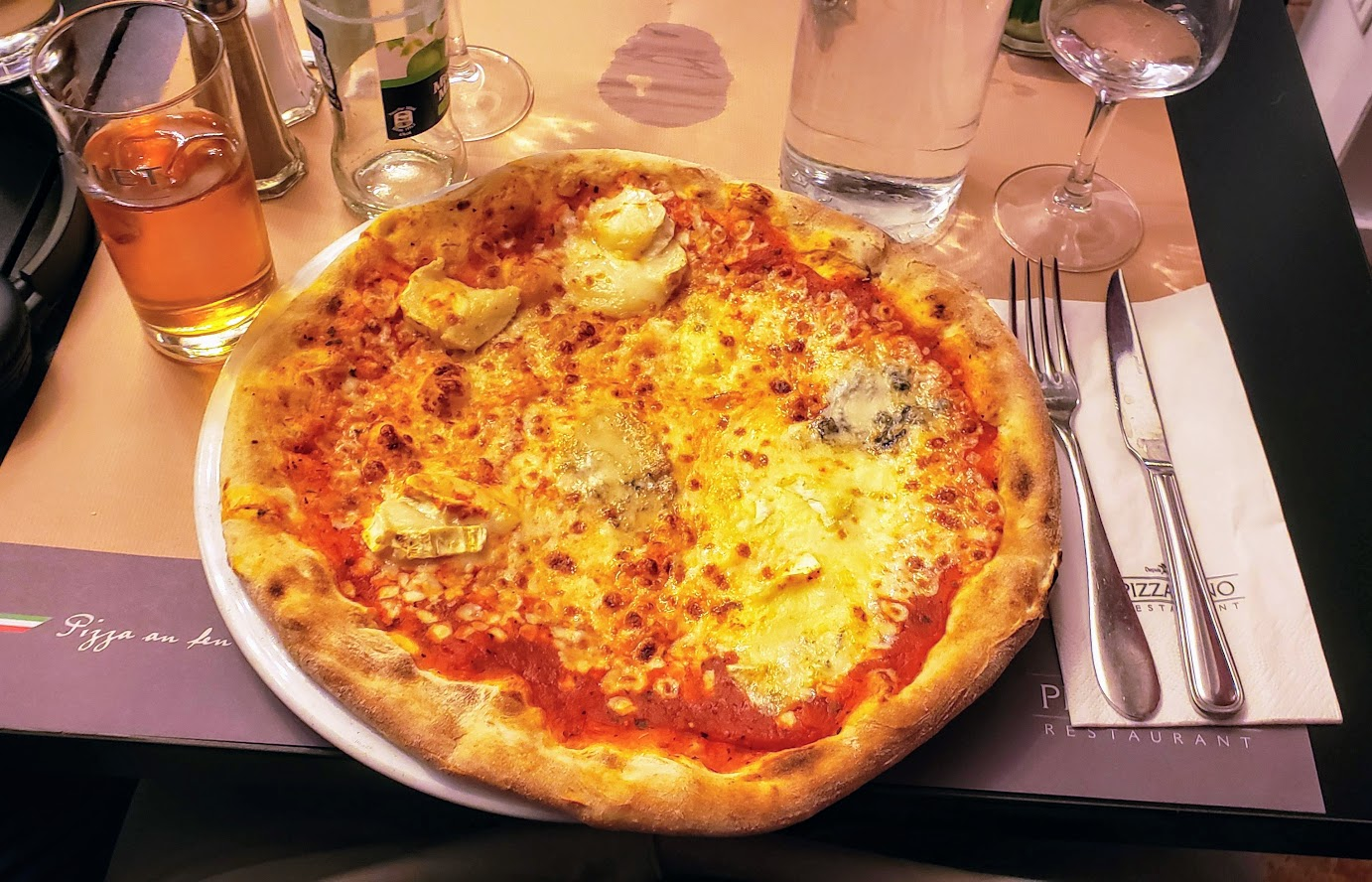 It wasn't the best pizza I've ever had by a long shot, but was still pretty tasty, and was an OK, but definitely not recommended meal for just before a three-hour movie.
Sightseeing
This week's sightseeing will not be accompanied by photos, because I didn't take any (the sights were quite distracting). We did visit Les Halles de Lyon Paul Bocuse, a building housing some of the best restaurants and food shops in Lyon. Named after the famous Lyonnais chef Paul Bocuse (who unfortunately died in early 2018), wherever you turn you're bound to find something delicious. I ate some escargots there last week, so I was familiar with the location, but we did get to enjoy tasting quenelles (a Lyonnais specialty made with pike and a bread binding), saucissons (dried sausages), cheeses, and wine.
Spending
7.50€ for a delicious crêpe with chocolat and glace vanille (vanilla ice cream) and 2.50€ for a jus de pomme Tuesday afternoon
21.80€ for a quatre fromage (4 cheese) pizza and jus de pomme (apple juice) on Tuesday before the movie
2.70€ for a bottle of water for the movie late Tuesday night
A 4.85€ campagne thon (what I had the first week, a tuna sandwich) for lunch on Wednesday
4.90€ for a croque feuilleté tomate mozza (a pastry containing mozzarella, tomato, pesto, and béchamel sauce) for lunch Thursday
As usual, the total: 44.25€ minus 7.50€ for the items containing chocolate (I don't remember the price of the apple juice I drank with the crêpe), for a total of 36.75€. That's a lot less than last week, partially because the school week was shorter so I mostly ate at home (those with a keen eye might note most of my purchases have been food...).
On the topic of payments, this week went seamlessly paying with my phone, and I was even able to split the bill at the crêperie for simplicity's sake.
Conclusions
I think it's safe to say I'm enjoying myself. More importantly, I'm enjoying the food. I still haven't settled on a perfect upload schedule but I'm noticing returning visitors every week so I'll try to keep pushing these blog posts out. See you next week!